Philanthropy
Helping the communities we serve
As a Houston-based, family-owned business, O'Rourke Petroleum is strongly tied to the community in which we operate. Over the years, our company – and our employees – has donated time, resources and money to a variety of worthwhile nonprofit organizations throughout the Greater Houston region. As a company that strongly supports and promotes education, growth, and development internally with our team, we are also committed to supporting the educational endeavors and achievements of our local community.
Below is a list of organizations O'Rourke Petroleum is proud to be involved with. It is our way of giving back and saying thank you to a community we have been a part of since 1932.
Organizations we support include:
Autism Speaks
Blessy Charities
Boys & Girls Harbor of Texas
Crisis Intervention of Houston
Devereux Texas Treatment Center
Houston Golf Association
Houston Livestock Show & Rodeo
KIPP Schools
Leukemia & Lymphoma Society
Port Houston Elementary
The Sunshine Kids
Team Inspiration of Texas (MS 150 Team)
Featured Events
Devereux Savor the Hope Gala
Mush Khan and Philanthropist Carolyn Farb were honored at the 4th Annual Devereux Gala.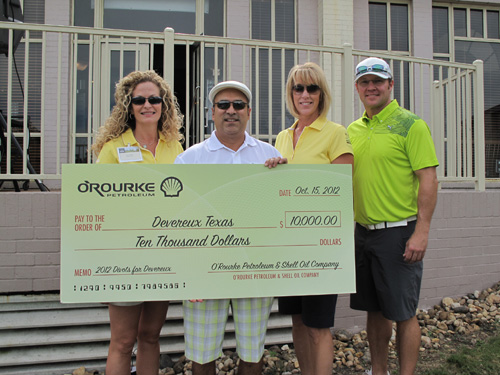 Divots for Devereux Golf Tournament
O'Rourke participated as a Master Sponsor in the 11th Annual Divots for Devereux Golf Classic...More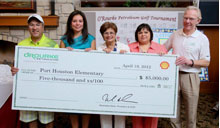 O'Rourke Golf Tournament benefiting Port Houston Elementary
On Thursday, April 19, 2012 at Redstone Golf Club, O'Rourke Petroleum hosted its First Annual Golf Tournament, a customer-appreciation event that raised awareness and $6,640 ...More